Full Stack Developer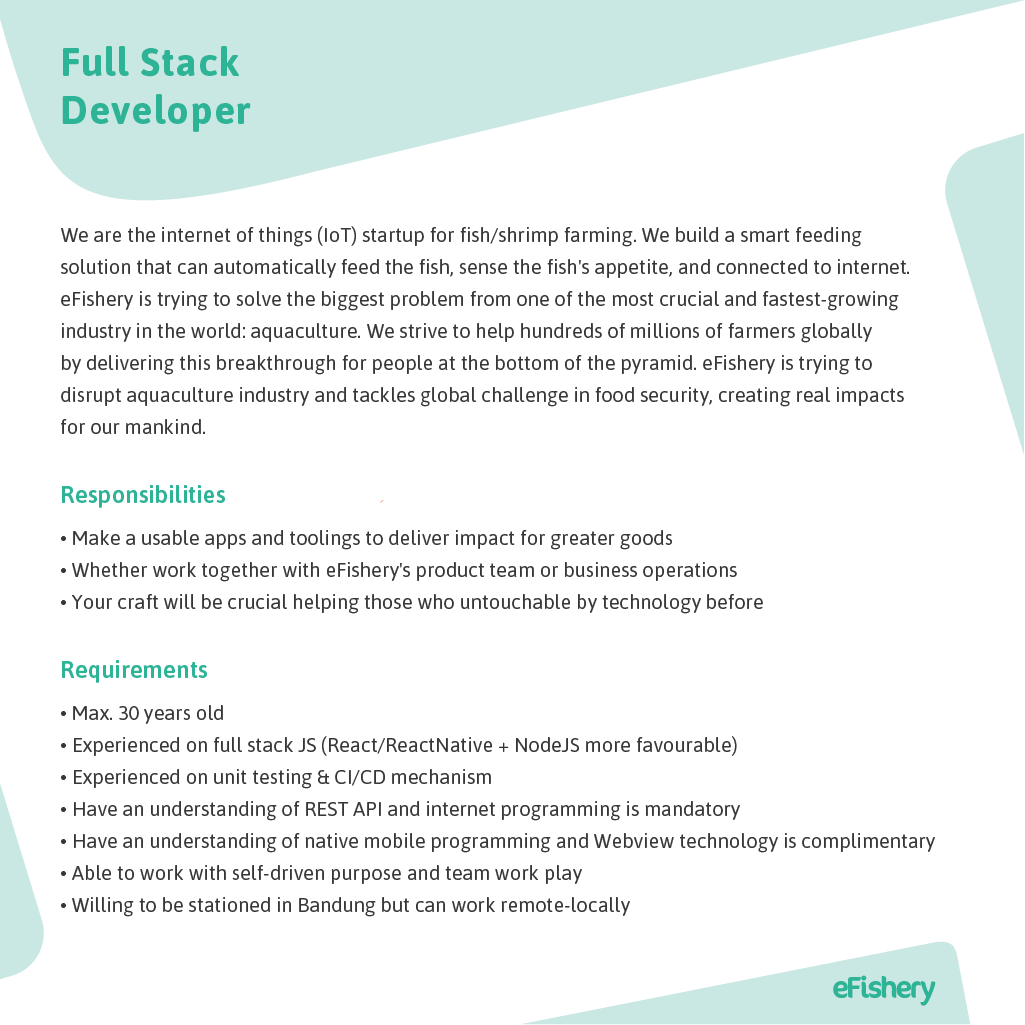 We are the internet of things (IoT) startup for fish/shrimp farming. We build a smart feeding solution that can automatically feed the fish, sense the fish's appetite, and connected to internet. eFishery is trying to solve the biggest problem from one of the most crucial and fastest-growing industry in the world: aquaculture. We strive to help hundreds of millions of farmers globally by delivering this breakthrough for people at the bottom of the pyramid. eFishery is trying to disrupt aquaculture industry and tackles global challenge in food security, creating real impacts for our mankind.
Responsibilities:
Make a usable apps and toolings to deliver impact for greater goods.
Whether work together with eFishery's product team or business operations.
Your craft will be crucial helping those who untouchable by technology before.
Requirements:
Max. 30 years old
Experienced on full stack JS (React/ReactNative + NodeJS more favourable)
Experienced on unit testing & CI/CD mechanism
Have an understanding of REST API and internet programming is mandatory
Have an understanding of native mobile programming and Webview technology is complimentary
Able to work with self-driven purpose and teamwork play
Willing to be stationed in Bandung but can work remote-locally
Company Name
eFishery
Description
To Hack the Growth of All Farmers in the World , We are Hiring From Geek to Great

We are a pool of talent filled with passionate geek supported by business professionals and social visionary. Our team draw their best of knowledge in multiple disciplines: mechanical, electrical, biology, IT, finance, business, and marketing. All hands on deck, aimed to reach one goal that is to create a better world through the best agriculture technology. Solve Problem that Matters We are a social-impact-oriented startup. For us, food security problem matter the most and livelihood of farmers gets our utmost attention. We try to answer the irony of technology where smartphone keeps evolving to help people do better selfies, but technology of how we produce our food doesn't change much for the last decade. Team of Brave Explorer We are a team of savvy explorer. We love to explore new problem and invent new solution while making the wonder of technology and complexity of agriculture live in coexistence on our environment. We also literally explore the vast biosphere of Indonesia to create bond with farmers and deliver technology through the last mile Seriously Happy Family We love our endeavour as much as we love our family. Office-home balance is one of the most endorsed principle in our team. As our CEO said, we are 24/7 eFisherian and also 24/7 human.

Job Category
Software Development
City
BANDUNG
Job type
Full Time
Salary Range
ABOVE RP5000000
Application Deadline
03/25/2019