UI/UX Designer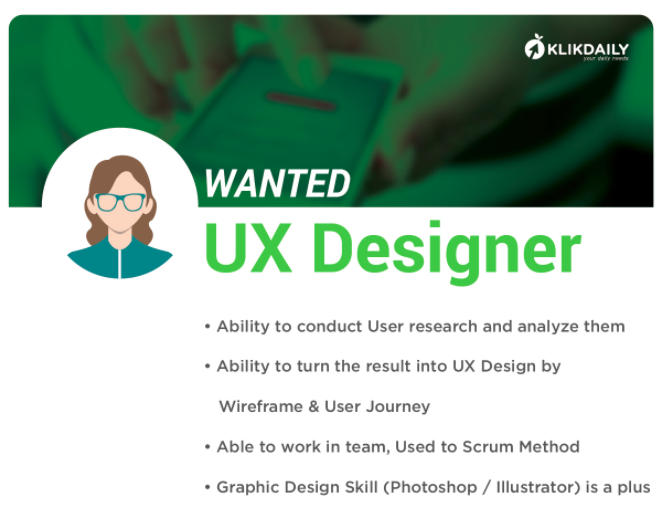 Job Descriptions:
1.       Ability to conduct user research and analyze them
2.       Ability to turn the result into UX Design by wireframe and User journey
3.       Able to work in team, used to scrum method
4.       Graphic design skill (photography, illustrator)
Job Requirements:
1.       Age Max. 27 years old
2.       Bachelor Degree in Computer Science/Information Technology or equivalent.
Company Name
PT. Klik Teknologi Indonesia
Description
Klikdaily (PT. Klik Teknologi Indonesia) is mobile based application that helps to meet everyday home needs in an easier and convenient way, focusing on delivery to customer doorsteps and connects customer with our home assistant who will direct delivery for our customer.

If you are ready enough to challenges yourself, Let's be part of Klikdaily family!

Job Category
Creative & Design
City
TANGERANG
Job type
Full Time
Salary Range
ABOVE RP5000000
Application Deadline
11/30/2017