Student Ambassador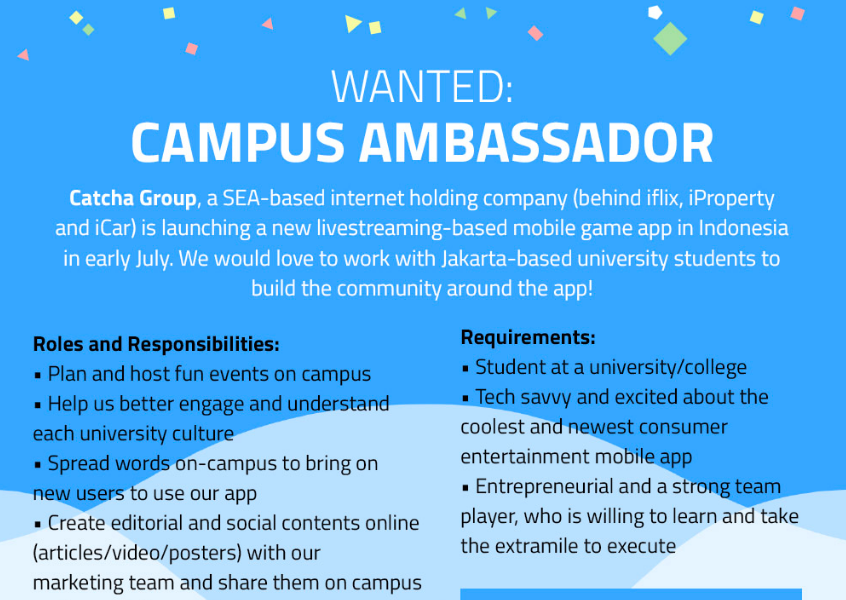 Catcha Group, a SEA-based internet holding company (behind iflix, iproperty and iCar) is launching a new livestreaming-based mobile game app in Indonesia called iQ Trivia. We are looking for Jakarta-based university students to help us build the community around the app!
Role:
– Direct word of mouth marketing of the app
– Community building both online and offline
– Assist in social media content
– Organise learning sessions (eg. entrepreneurship talks, business case studies, hackathon sessions)
Requirements:
– Student at a university / college
– Able to commit 5 hours of time per week
– Tech savvy, entrepreneurial, strong team player
– Fluent in spoken and written English
– Experience in campus events / community events is a plus!
Company Name
iQ Trivia
Description
Catcha Group is a leading South East Asia internet group based in Malaysia. We build and invests in disruptive tech companies in emerging markets. We have been in the SEA tech scene for almost 20 years. Within this period, we have made 60 investments, are currently employing 3000+ employees across our portfolio companies and IPOed 5 companies (4 in Australia Stock Exchange and 1 in Bursa Malaysia).

Some of the more well-known companies started by Catcha Group include iProperty Group, ASEAN's largest property portal, and iflix, the biggest VoD (Video on Demand) platform in Indonesia.

This July, Catcha Group going to launch a new consumer mobile game in Indonesia called iQ Trivia.

Job Category
Public Relations – Event Management
City
JAKARTA SELATAN
Job type
Part Time
Salary Range
BELOW RP1000000
Application Deadline
07/09/2018