Social Media & Content Writer Internship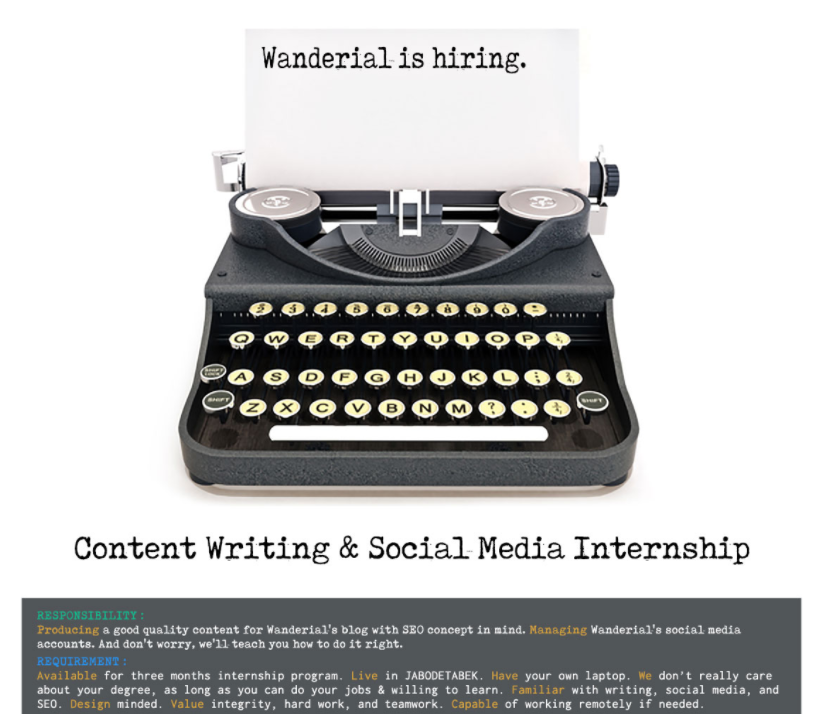 We are looking for social media manager & content writer intern to work with us to build a marketplace for trip organiser writing platform from scratch. Our team consist of experienced entrepreneur & creative people in startup industry, let's join us and experience how it feels to develop a product. We'll hire two interns for this job, so you can share thought and being a team player.
We're looking for a free thinker with a doers attitude & curious mind.
Responsibility:
Working on the spot (West Jakarta) three times a week & remotely for the rest of the week.
Producing good quality content for Wanderial's blog with SEO in mind
Managing Wanderial's social media accounts. And don't worry, We'll teach you how to do it right.
Requirements:
Available for three months internship program
Live in JABODETABEK
Have your own laptop
We don't really care about a degree, as long as you can do your jobs & willing to learn.
Familixar with writing, social media, and design-minded
Design-minded, which is capable of distinguishing between good and bad design.
Dare to take a creative risk and tackle any problems.
Value integrity, hard work, and teamwork.
Able to work remotely if needed
Incentive:
Up to 1 million a month, well, enough to have fun in the weekend
A chance to have a paid trip to an awesome place like Thailand, Vietnam, Japan, or Maldives. Yeah, we're not joking, cause our sales partly depend on you so why not right?
| | |
| --- | --- |
| Company Name | Wanderial |
| Description | Wanderial is a curated marketplace for trip organizer. We're an early stage invested startup with curious and tribe like company culture with a casual attitude, performance based accountability, and data-driven decision making process. We're starting small, but we have a vision to be a leading tourism tech solution company in Southeast Asia. Join us and experience how it's like to build a product from scratch. |
| Industry | Marketing – Digital & Online |
| Job type | Magang |
| Salary Range | BELOW RP1000000 |
| Application Deadline | 07/23/2017 |
| Send CV to | internship@wanderial.com |