Project Manager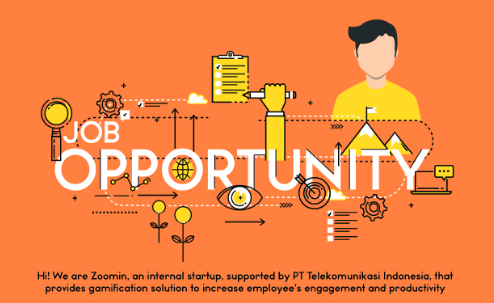 Zoomin, one of internal start up of PT Telekomunikasi Indonesia in Digital Amoeba Program (digitalamoeba.id). We help enterprise who want to improve human resource productivity with Enterprise Gamification Platform.
Requirements :
-Open for graduate from IT, Business, Industrial Engineering Graduate
-Strong in Project Management
-Strong in leadership and communication skill
What You'll Learn:
Develop your problem-solving skills and be a team player
– You'll have the opportunity to solve challenging problems with the other members in the team
– As you'll be collaborating closely with business team, developers and marketing to deliver projects to customer, you'd learn to be a better team player.
Learn the latest industry trends and technologies
– By working in our company, you'll be exposed to the latest industry trends.
– You'll also get the opportunity to work with the latest technologies.
Company Name
Zoomin
Description
Zoomin adalah Start Up Internal PT Telekomunikasi yang bergabung di Program Digital Amoeba (digitalamoeba.id). Kami bergerak di bidang digital services menyediakan Enterprise Gamification Platform bagi perusahaan yang mau menerapkan gamifikasi pada bisnis prosesnya

Kunjungi website kami di zoomin.id

Job Category
Product Development & Management
City
DKI JAKARTA
Job type
Full Time
Salary Range
RP3000000 RP5000000
Application Deadline
06/30/2018