Graphic Designer Internship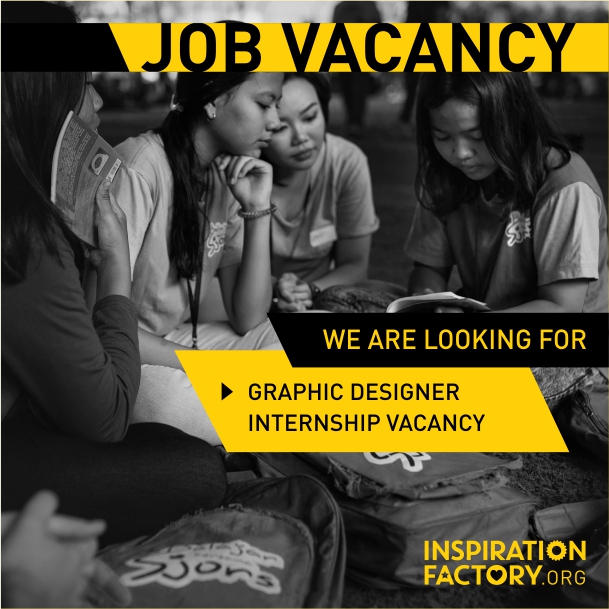 Our website and Instagram account are designed by our creative and amazing Graphic Designers from Indonesia and abroad. At the moment, we have one internship spot available for a Graphic Designer. Guess what? You get to see hundreds of underprivileged children in slums wearing the uniform you designed for them. How cool is that?
This is what we are looking for in you:
Excellent design and Photoshop skills (Photography and/or videography skills are a plus)
Basic Illustrator skills and movie editing knowledge
Good planning skills to coordinate internal resources and outsourcers
Ensuring projects are delivered within scopes of framework
Good communication skills
Maintain current operational system with necessary documentation
Multi-tasking skills (of course)
Maintain the current marketing style and develop new marketing styles
And particularly with such soft skills:
Extremely creative and accurate
Responsible, respectful and honest
Able to work in teams and alone
Highly energetic, inspired and motivated
Share the same dream to change the lives of the underprivileged children in Indonesia
Most of the time you will:
Design our social media images
Design advertisements, promotional items and campaign materials
Design modules and lesson materials
Work closely with the Social Media manager
Visit locations inside and outside Jakarta to capture our programs
Assist other departments with their need for designs and materials
Fighting deadlines since most of the materials are ordered last minute
Qualifications:
Minimum age 18 years old
Min 5th Semester or Final Year
Minimum internship period of six months
Fluent in English + Bahasa Indonesia
Able to work in Jakarta Pusat
Recent online portfolio available
This is what we offer you:
Vibrant working environment
No day is the same, as well at the office as on the field
Internal development trainings and workshops
And the possibility to change lives, even your own!
Information for foreign students:
This internship position is also open for foreign students for a minimum period of 6 months for. Studying abroad is one of the most unforgettable experiences during your college years. Besides gaining a lot of experience you get to know the culture, have the chance to explore the rest of the country and make new international friends.
Internships available for HBO and WO students
Minimal 6 months internship
Accommodation guidance
Visa for internship will be granted for 60 days and needs to be extended for 4 x 30 days
Cost for flights, accommodation and visa are covered by the intern
If you are interested in an internship at the Inspiration Factory Foundation and you would like to receive more information regarding the possibilities and requirements you can contact us directly.
Company Name
Inspiration Factory Foundation
Description

"TO INSPIRE UNDERPRIVILEGED CHILDREN TO FULFIL THEIR DREAMS AND INFLUENCE THE WORLD WITH THIS LEGACY."

That is our vision. The Inspiration Factory Foundation is a non-profit organization that manufactures tools to dare underprivileged children to dream, because Inspiration is at the heart of each world's greatness. The tools we produce are inside our exclusive DreamProgram and will help these children to pursue their dreams and engages countless communities and inspires people to make a positive impact in this world. Join our factory now!

Job Category
Graphic
City
JAKARTA PUSAT
Job type
Magang
Salary Range
BELOW RP1000000
Application Deadline
11/30/2017