Event Organizer Staff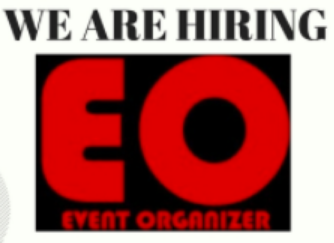 We are looking for social media manager & design manager intern to work with us to build Kenobi Space to be the most awesome coworking space in Jakarta. Our team consists of experienced entrepreneur & creative people in startup industry, let's join us and experience how it feels to develop a build a community. We'll hire two interns for this job, so you can share thought and being a team player.
We're looking for a free thinker with a doers attitude & curious mind.
Responsibility:
Working on the spot (South Jakarta) five days a week with flexible schedule.
Help managing event organizing in Kenobi Space.
Requirements:
Available for three months internship program
Live in JABODETABEK
Have your own laptop & mobile phone
We don't really care about a degree, as long as you can do your jobs & willing to learn.
Familiar with copywriting, social media, and event organizing
Good communication skill
Design-minded, which is capable of distinguishing between good and bad design.
Dare to take a creative risk and tackle any problems.
Value integrity, hard work, and teamwork.
Able to work Saturday & Sunday
Incentive:
Up to 1 million a month, well, enough to have fun in the weekend
Knowledge, because you can learn anything here. Just help us arrange the workshop/event.
Business Network. It's your fault if you can't meet new people every day in here.
Experience work at startup
Free coming event at kenobi space
Company Name
Kenobi Coworking Space
Description
Coworking space, event space, meeting room, private office, and auditorium for startup goers, freelancers, enthusiastic funders, aspiring writers, creative designers, and those who want to celebrate creativity in all its form

<a href="http://www.kenobispace.com">www.kenobispace.com</a>

Job Category
Creative & Design
City
JAKARTA SELATAN
Job type
Magang
Salary Range
BELOW RP1000000
Application Deadline
03/31/2018