Event Organizer Assistant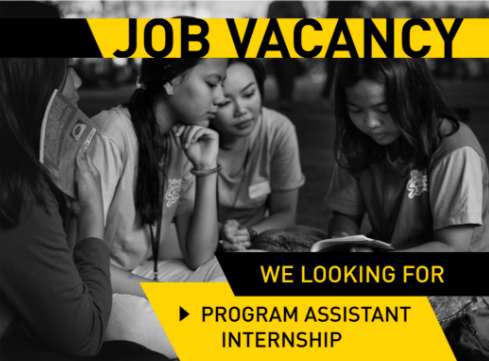 Every Inspiration Factory has its own challenges, regarding the children, environment and execution of our DreamProgram. As the assistant of our Co-Founder and Event Manager you are responsible for the smooth operations of our Inspiration Factory events in Jakarta and at Bali. How cool is that?
This is what we are looking for in you:
– Good planning skills to coordinate with internal resources and outsourcers
– Ensure that projects are delivered within scopes of framework
– Good communication skills
– Maintain current operational system with necessary documentation
– Measure project performance
– Multi-tasking skills (of course)
– Basic computer skills
And particularly with such soft skills:
– Likes interaction with people in general
– Good eye for details
– Responsible and respectful
– Honest
– High energy and motivated
– Highly inspired
– Like to solve difficult problems
– Has no problem with traveling through the city and even outside Jakarta
– Share the same dream to change the lives of the underprivileged children in Indonesia 
Qualifications:
– Age 18-28
– Preferably Male
– Fluent in English and Bahasa Indonesia
– Diploma/Degree Holder
– Able to work in Jakarta Pusat
– Experience with coordinating events & projects
– Having experiences as a volunteer or in NGO would be preferable
This is what we offer you:
– Vibrant working environment
– No day is the same, as well at the office as on the field
– Reasonable junior salary, based on age and experience
– Internal development trainings and workshops
– Travels to our Bali locations
– And the possibility to change lives, even your own!
Company Name
Inspiration Factory Foundation
Description
"TO INSPIRE UNDERPRIVILEGED CHILDREN TO FULFIL THEIR DREAMS AND INFLUENCE THE WORLD WITH THIS LEGACY."

That is our vision. The Inspiration Factory Foundation is a non-profit organization that manufactures tools to dare underprivileged children to dream, because Inspiration is at the heart of each world's greatness. The tools we produce are inside our exclusive DreamProgram and will help these children to pursue their dreams and engages countless communities and inspires people to make a positive impact in this world. Join our factory now!

Industry
Public Relations – Event Management
Job type
Full Time
Salary Range
RP1000000 RP3000000
Application Deadline
07/31/2017
Send CV to
info@inspirationfactory.org