Calling For AYVP Indonesia 2017 Facilitators & Volunteers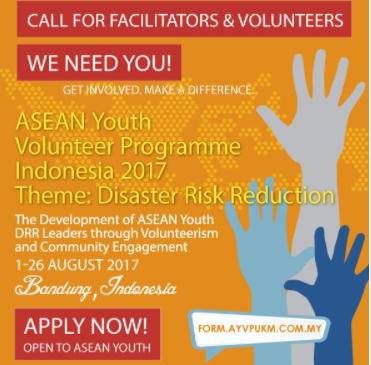 The ASEAN Youth Volunteer Programme, Universiti Kebangsaan Malaysia is calling for Facilitators and Volunteers:
The theme this year is the Development of ASEAN Youth DRR Leaders through Volunteerism and Community Engagement.
Eligibility: Nationals of ASEAN countries, aged 18-30 years old, fluent in the English language, with experiences in volunteerism and leadership, passionate about DRR and serving communities in need, with a DRR project idea that will benefit the community in their home countries!
The AYVP Indonesia 2017 is supported by the USAID Asia, Ministry of Youth and Sports, Malaysia, and ASEAN Secretariat.
Application deadline for Facilitators: February 17, 2017.
Application deadline for Volunteers: February 24, 2017.
More info click here
#AYVPUKMIndonesia2017