Business Development Intern – Fashion Category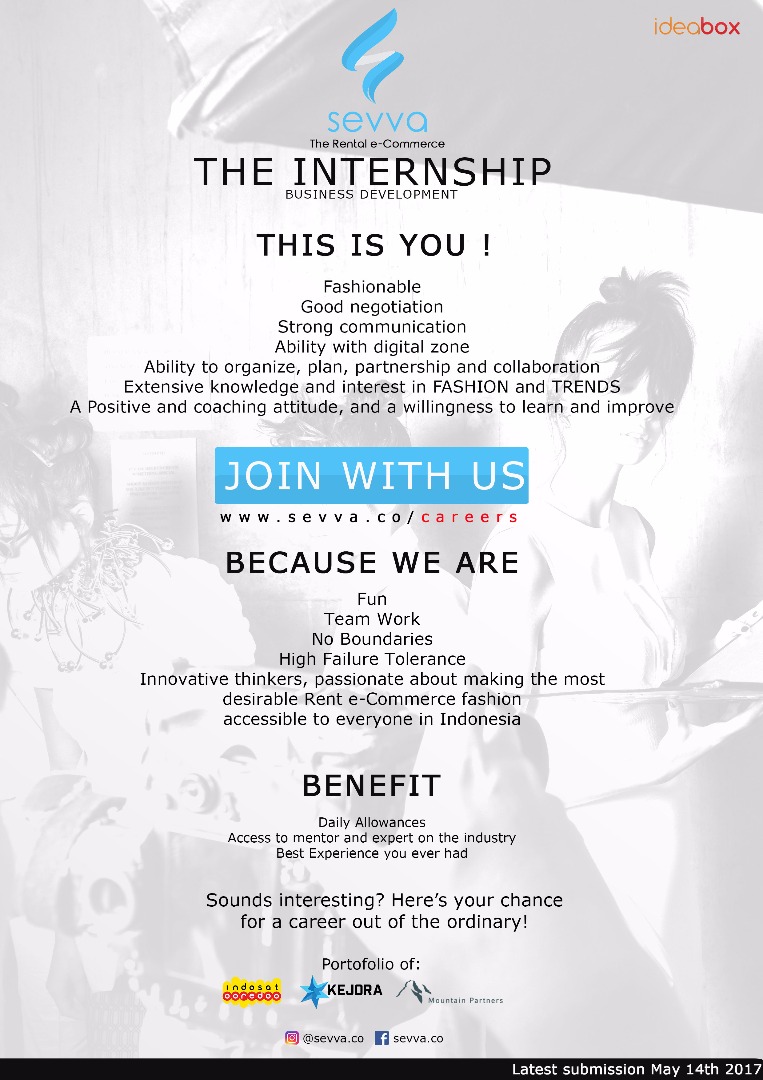 Halo, kami dari Sevva, startup rental e-commerce berbasis sharing economy. Kami menyediakan sebuah platform dimana penyewa dan pemilik barang dapat melakukan transaksi sewa-menyewa barang dengan aman dan mudah.
Kami baru saja mendapatkan seed round investment dan incubation program dari Ideabox yang terdiri dari Indosat, Mountain Partners dan Kejora.
Saat ini kami sedang mencari talent-talent terbaik untuk membantu kami mengembangkan sistem kami.
Apabila kalian tertarik dengan dunia startup, ingin mengumpulkan pengalaman, mengasah skill dan memperluas koneksi, jangan ragu untuk bergabung dengan kami. Sebagai early employee, kalian lah yang akan membentuk dan mengarahkan Sevva bersama sama dengan anggota tim yang lain.
Kamu akan bekerja untuk mengembangkan kategori FASHION. Jika kamu memiliki ketertarikan di dunia FASHION, maka program ini sangat cocok untukmu.
Lokasi kantor di daerah Wisma Barito Pacific, Slipi.
We're looking for people who are fast learners and have high passion in working in startups. You will not be working FOR us, you will be working WITH us.
Job Description:
A Business Developer will work on sales follow-up activities.
Business Development involves scheduling appointments, preparing and delivering presentation to the client, having researched their business and requirements.
Your main area of focus will be to generate new leads with the aim of creating more sales.
Requirement:
Business Developers need to be skilled at agreeing and closing deals with clients.
Excellent communication skills, both verbal and written
Woman and Good Looking
Allowance and Benefit
* Access to great mentorship with Kejora and Indosat
* Allowance Rp 1,500,000
Company Name
PT Ekonomi Berbagi Indonesia
Description
Sevva is a rental e-commerce of curated vendor and products for modern urban millenials to fullfill their desire for dream products by only spending a fraction of its retail price.
No boundaries between the C-level members and the employees. We're in this together.
We do Daily Scrum meetings to discuss today's plans and objectives.
If we think you'll be a valuable asset to the company, and you like working in Sevva,

Feel free to raise any objections and thoughts to other members.
We value open and creative mindset in solving problems

Industry
Advertising Marketing Promotion Public Relation
Job type
Magang
Salary Range
RP1000000 RP3000000
Application Deadline
05/26/2017
Send CV to
michael@sevva.co